How Screencaps Killed SB5
by
evanmcmurry
After Wendy Davis's epic filibuster was stopped just minutes before the special session's midnight deadline, the GOP-controlled Texas Senate attempted to hold a vote on anti-abortion bill SB5. Lieutenant Governor David Dewhurst was drowned out by protestors chanting from the rotunda to the point that nobody could hear what was being voted on, and amidst the scrum, almost everybody present said the Senate didn't actually take the vote until 12:01.
But then Republican Dan Patrick emerged touting a victory for the bill, and someone got the Associated Press to believe him:
Just one problem. Here a screencap of the official timestamp from TLO, Texas Legislature Online, the real-time record of the Senate:
The bill is shown as having passed on 6/26, or after the midnight deadline, making it illegal.
But a few minutes later, the record looked like this: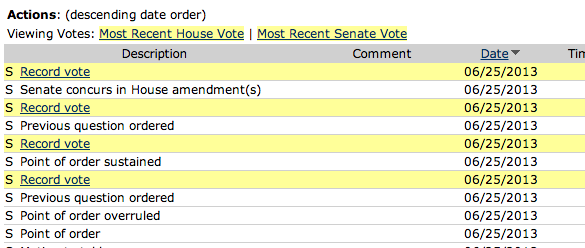 Now the record states the bill passed on 6/25, or before the midnight deadline, making it legal.
That might have flown had nobody noticed it. But within a few minutes, all of Twitter was retweeting the edited timestamps, most of which were taken by Texas Tribune reporters and other media-types thinking fast on their feet. By 2:00 a.m. the Senate had recaucused and killed the bill, admitting that there was no arguing with the timestamp (which was officially recorded at 12:03 a.m., or, as many joked, 11:63 p.m. on the GOP's clock).
And that's how, with the national media ignoring the story and the AP jumping the gun, a couple of screencaps stopped an abortion bill in its tracks and reversed an abuse of congressional power.